AvantLink Tag Categories and Groups is a great way to not only organize your affiliates, but provides opportunities to employ strategic activities among each group. Once Tag Groups are established, a wide range of rules can be set to further optimize each group. In the following section, we will cover:

HOW TO CREATE TAG CATEGORIES AND GROUPS
There are two ways to organize your affiliates. In this section, we will review the definitions of Categories and Groups, when to use them, and how to create each one.
Tag Categories allow you to categorize affiliates into specific groups based on general criteria of your choosing.

Tag Groups allow you to segment affiliates even further within each Tag Category. For example, if you wanted to group all of the affiliates in the "Outdoor" Tag Category that focus primarily on rock climbing, you could create a Tag Group called "Rock Climbing".
To create both Categories and Groups, sign in to your AvantLink account and navigate to Affiliates > Affiliate Tagging/Group Administration: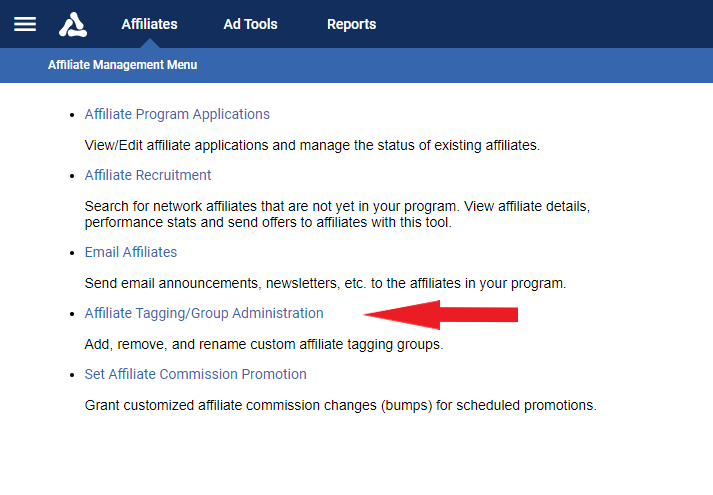 Creating a New Tag Category will give you the option to create a category with any name of your choosing:



Creating a New Tag Group will give you the option to also name your group and place it in any category you have set up: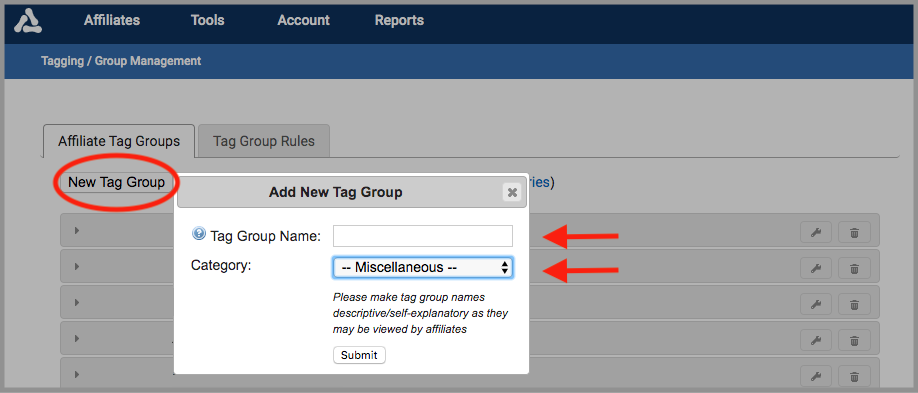 ADDING AFFILIATES TO TAG GROUPS

Now that your Tag Groups are created, placing your affiliates in their appropriate group can be accomplished in multiple ways.

Originating from a created Tag Group: Navigate to Affiliates>Tagging/Group Management>select the Tag Category to show all of your active Tag Groups. From there, select Edit next to the appropriate group you would like to place your affiliate in.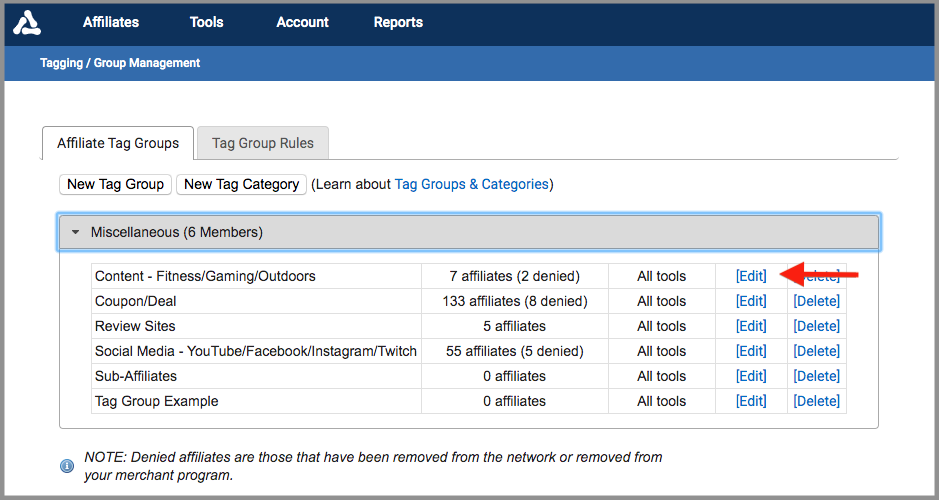 From this page, you can add affiliates in three ways:
Add a new affiliate: Identify an active affiliate from the drop-down next to

Add a new affiliate.

Import affiliates from: Import a group of affiliates from a wide array of data sets (click the '?' next to this field to view options).
Advanced selection: Add multiple affiliates at one time by listing their Affiliate IDs.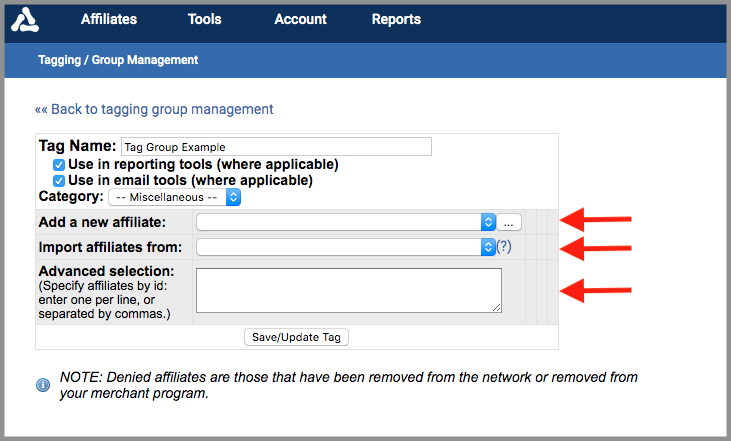 Originating from the Untagged Affiliate List: Navigate to > Affiliates > Tagging/Group Management. From the Tagging/Group Management page, you can identify all affiliates that are not assigned to a tag group on the right-hand side of the page.


At this point, there are two ways you can add affiliates to a Tag Group:
1. Select one or multiple affiliates and enter in the tag group you would like next to Assign to a Tag Group:



2. Select Details next to the affiliate you wish to tag:


After selecting Details, select the Tags tab and then the appropriate Tag Group and select Save/Update Tags. From this tab, you can also create a new tag group in the empty box. Saving the tag will automatically place the affiliate in your newly created tag group: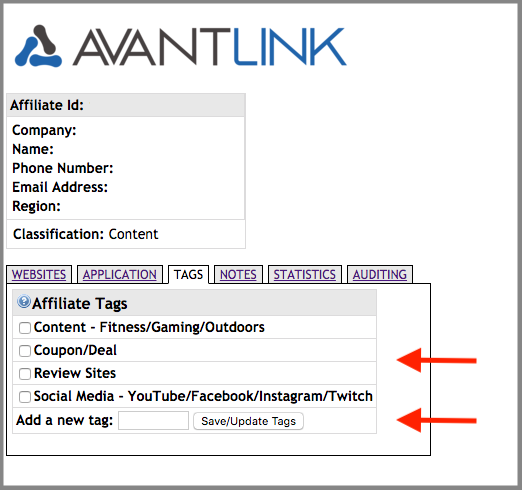 Insider Tip:
You can tag affiliates as you accept them into your program while reviewing your Pending Applications. Once you approve the affiliate from the Application tab, you can then move to the Tags tab to assign your new affiliate.

TAG GROUP CAPABILITIES
With your Tag Groups created and your affiliates organized, there are several ways to make your life easier and initiate actions that will impact an entire Tag Group, including:
Setting a temporary commission increase

. Navigate to Menu > Commission Tools > Commission Promotion. You can select one or multiple Tag Groups to receive the temporary commission increase.

Sending an email

: Navigate to Affiliates > Email Affiliates. You can Filter by Tag Groups and select one or multiple Tag Groups to receive a specific message.

Restricting an ad campaign

: Navigate to Ad Tools > under Merchant Ads select the Manage tab. When creating a new Ad Campaign, you can restrict its use to only one Tag Group using the Affiliate Restriction tool.

Initiating performance reports:

Navigate to Reports > select Show Report Form > select your desired Tag Group under Affiliate Grouping.
Note: Keep in mind that the capabilities explained above can only be utilized with Tag Groups. You cannot email, bonus, or isolate ad campaigns using Tag Categories.
WHAT ARE TAG GROUP RULES?
Tag Group Rules can help make your program more dynamic and effective in meeting your needs as a manager and the needs of your affiliates. Below is a list of rules you can initiate for any of your Tag Groups.
Basic Rules
Affiliate Commission: This rule increases or decreases the commission rate for a Tag Group. This is intended for more permanent adjustments in commissions and allows for mass increases/decreases in commission rates for all affiliates included in a Tag Group. Note: For temporary or promotional commission increases, the Affiliate Commission Promotion Tool should be used. Also, affiliates in a Tag Group receiving a commission deduction will be notified and given seven days to accept or deny the new term changes.
AvantMetrics Additional Commission: This rule is available to merchants who have the AvantMetrics tracking in place. This allows you to remove an affiliate from the AvantMetrics tiered commission structure and set their compensation to a flat commission percentage. Reminder: you must first decrease the impacted affiliate(s) overall commission to .01%. You can then create a specific Tag Group for any impacted affiliate(s) before you can initiate the Tag Group Rule.
Cookie Duration: This rule increases or decreases the cookie duration for a Tag Group. Important: for any affiliates in a Tag Group receiving a cookie length deduction, those affiliates will be notified and given seven days to accept or deny the new term changes. For any merchants using an AvantMetrics Attribution solution, the Cookie Duration rule is not available.
Referral Restrictions: The Referral Restriction rule specifies that affiliates in a Tag Group cannot have their cookies overridden by referrals from another Tag Group.
Advanced Rules
Tracking Parameters: The Tracking Parameters rule allows for the set up of URL parameters that will be appended to affiliate link destination URLs for an affiliate Tag Group. URL parameters are made up of name and value components (e.g.

http://www.url.com/?name=value&name1=value1

) and can be used for determining referral sources in analytics platforms.

HOW TO CREATE TAG GROUP RULES?
Creating a Tag Group Rule is simple. Navigate to Affiliates >Affiliate Tagging/ Group Administration. Selecting New Rule located under the Tag Group Rules tab will provide a complete list of Rule Types available. You will also have the ability to choose one Tag Group that the selected rule will apply to.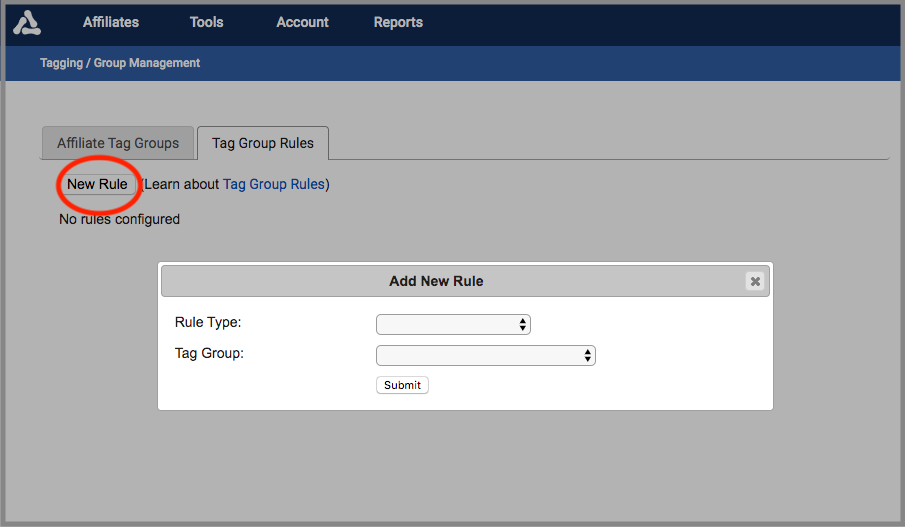 ADDITIONAL QUESTIONS?

Organizing your affiliates using Tag Categories and Groups creates a wide array of possibilities to help implement strategic activities, incentivize and monitor affiliate performance on a granular level, and more. If you have any questions about this article or the tactics discussed, please email am@avantlink.com.