If you are an AvantLink affiliate working with a wide array of merchant partners, you may need a little extra help organizing and keeping track of performance among multiple verticals. Tag categories and groups can help do just that. In the following article, we will review:
CREATING TAG CATEGORIES AND GROUPS
There are two ways to organize your merchant partners. In this section, we will review the definitions of Categories and Groups, when to use them, and how to create each one.
Tag Categories allow you to categorize merchants into specific groups based on general criteria of your choosing. For example, you can create an 'Outdoor' Tag Category for all outdoor-focused merchant partners.
Tag Groups allow you to segment merchants even further. For example, you can create a 'Rock Climbing' Tag Group and assign it to the "Outdoor" Tag Category.
To create both Categories and Groups, sign in to your AvantLink account and navigate to the menu icon

> Account Settings > Tag Groups.

ADDING MERCHANTS TO A TAG GROUP
Assigning your merchant partners to a Tag Group is simple. Select 'Edit' next to the appropriate group you would like to place your merchant.

From this page, select Add a new merchant and either select a merchant from the drop down list or search for a specific merchant.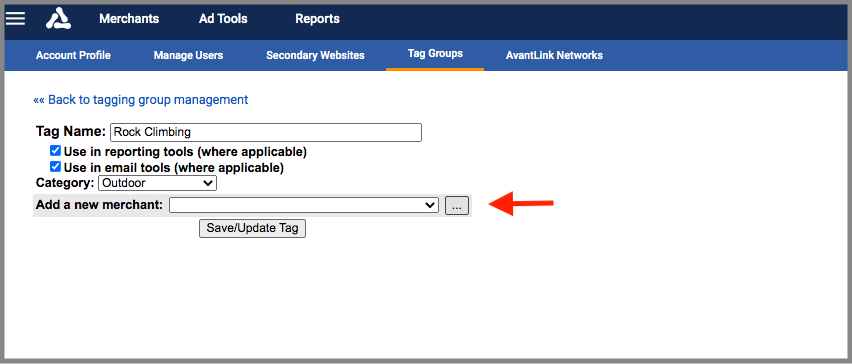 TRACKING TAG GROUP PERFORMANCE
Once tag groups are set up, it is now easy to review performance of merchant partners based on the tag groups created. Select Report > Classic > Show Report Form. Select the desired tag group next to Merchant Grouping.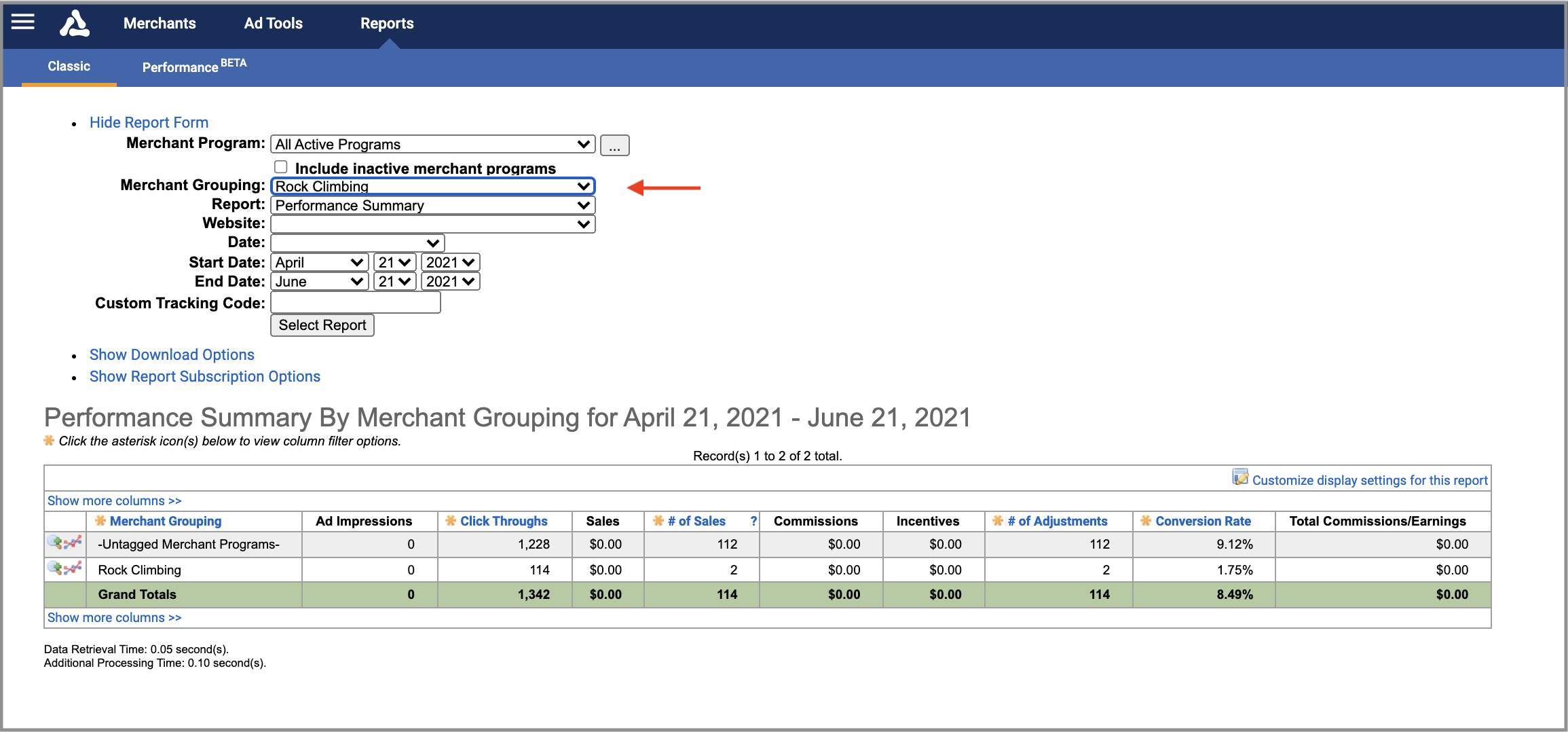 You can review data on a number of levels. Below are the most utilized reports and their performance metrics:
Performance Summary: review general performance including clicks, sales, commissions and more from merchants in a particular Tag Group.

Sales Commission (Details): review specific transaction-level information including Order ID, transaction amounts, transaction times and more from merchants in a particular Tag Group.

Sale Product Performance: review specific product-level sale information including Products SKUs, Brand names, total product sale amounts, and more from merchants in a particular Tag Group.
There are a number of other reports that can provide even more information.
ADDITIONAL QUESTIONS?
Organizing your merchants using Tag Categories and Groups creates a wide array of possibilities to monitor vertical performance. If you have any questions about this article or the tactics discussed, please email ateam@avantlink.com.