AvantLink's email tool allows you to effectively communicate with all affiliates or a designated tag group within your program. The following article will review:

CREATE AN EMAIL
To begin your communication, navigate to Affiliates > Email Affiliates. From here, there are a number of ways to create an impactful email.

Retrieve Drafts/Previously Sent Emails
You can refer to previous emails you have composed and sent to help you get started. Select "Retrieve drafts and previously sent emails" at the top of the page. This gives you the opportunity to:

Read previously drafted/sent emails

Select a previously drafted email to utilize as a template

Review draft emails that have not been sent

If you would like to start from scratch, you can move on to the next step and select recipients.

Select Recipients
Email all, a group of, or individual affiliates based on a wide variety of factors including:
All Affiliates

Ad campaign usage

Classifications

Location

New affiliate

Tag Groups

Tool Usage

Rating
You can choose to combine or exclude any of the groups using the filter tool.


COMPOSE EMAIL MESSAGE

Create and format a message that will get your partners' attention. There are a number of great tools to help, including:

Personalized Tag: Ensure an affiliate email is automatically personalized with First name, Last name, Full name, Login URL, an affiliate's commission, or Website ID.

Ad Campaign: Include text and banner ads by selecting the Ad Campaign tool. Always try to include both text and banners (if applicable). You can also select staged ads, that are not yet live if this newsletter is scheduled for a future date.

Seasonal/Promo Ads: Add promotions based on seasonal ads.
You also have the ability to add links, images and even YouTube links from AvantLink's support page.
Insider Tips:
The body of your email should be concise and engaging

Make the email actionable by including text or banner ads

Include start and end dates for any promotion
Sample Newsletter: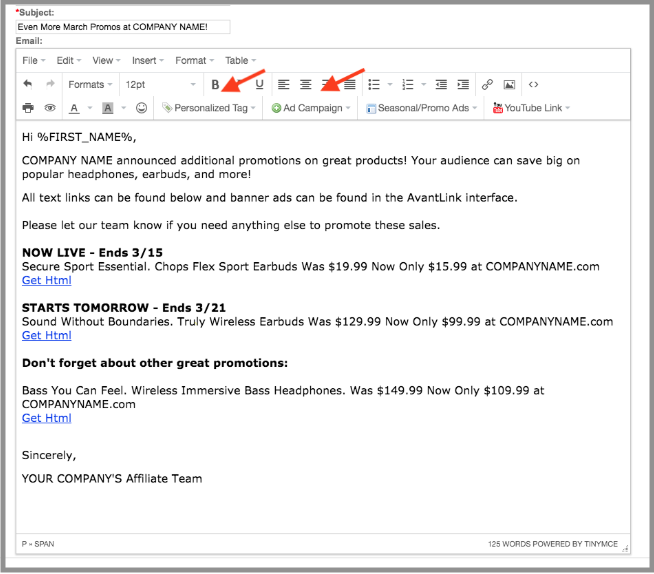 SEND EMAIL

You can preview your email to check for any edits needed. Once you are ready to send, schedule your email to go out immediately or for a later date.
Insider Tip:
When you Submit an Email for Approval, the email will go to the AvantLink compliance team for one final review. Please email

am@avantlink.com

immediately if you need our team to reject the email. You will receive an email notification when your email is approved or rejected.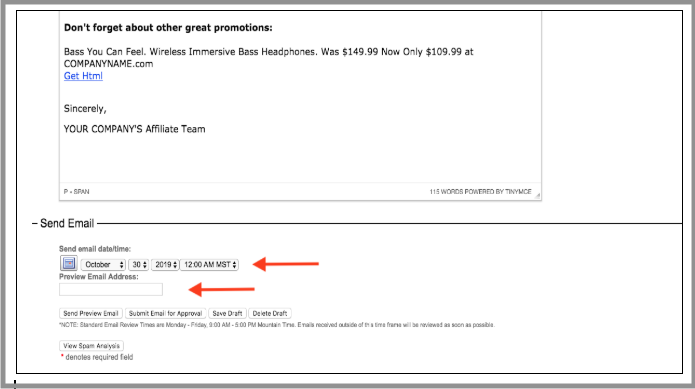 When to Send a Newsletter
Communicating with your affiliates on a regular basis - at least once a month - is important. Below are a few ideas to help facilitate communication with your affiliates.
New promotions. For important sales, send out a pre-emptive message to give affiliates time to prepare

Updated or date extensions of current ad campaigns

Program performance. Let your affiliate partners know about top converting products or ad campaigns

General updates from your company including new initiatives/goals

New product launches

Changes to your company's site

Changes to your affiliate program strategy

ADDITIONAL QUESTIONS?

AvantLink's email tool makes it easy to communicate with your entire affiliate base at once or segment your communication to a select group. Continually communicating with your partners is key to ensuring that your brand is included in their planning schedule. If you have any questions about this article or the tactics discussed, please email am@avantlink.com.