The Withdraw Now Button is not working for me?
Withdraw Now will not work if you are receiving payouts to a PayPal account. However, you can change your payment method and use Withdraw now.
My payment or tax information is not valid?

If you haven't already setup your payment and tax information you will be prompted to do so and provided a link that will take you to the "Manage Payment and Tax Information" page.
If you have filed your payment and tax info but are still being told to fill out the information, it may be due to incorrect details.
A way to check to make sure you are set as "payable" is to navigate to your "Payout History" page under the "Account" tab and if you receive an error message it means something went wrong and you will need to re-file your payment and tax details.

Additionally, you can contact an account manager or a member of our support staff to check for you as well. Just send a request email to support@avantlink.com.
How do I update my Withdrawal Threshold?
By default, we require at least $50 in your account in order to make any withdrawals. With the new Withdraw Now system we have made it possible to update your threshold to any of the presets we currently have in the system.
To set your threshold amounts simply navigate to "Account" and then click on the "Business Settings" button.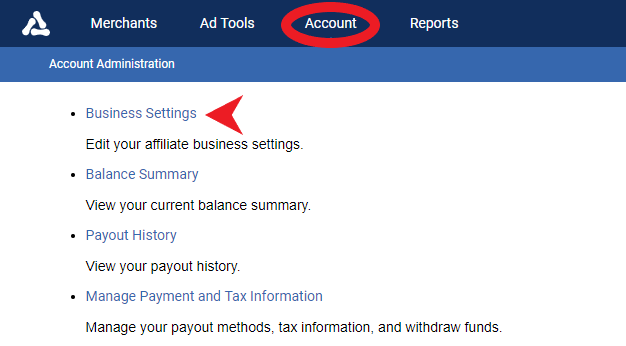 At the bottom of the "Business Settings" page you'll see "Account Settings". The drop down box will have all the preset threshold amounts you can choose from.

Simply choose the amount you want and click "Update".
Once you've updated the threshold and your commissions meet, or exceed, the amount you'll be able to withdraw funds. If you try to withdraw now and haven't met your threshold you'll receive an error with the amount you will need to meet before you can withdraw.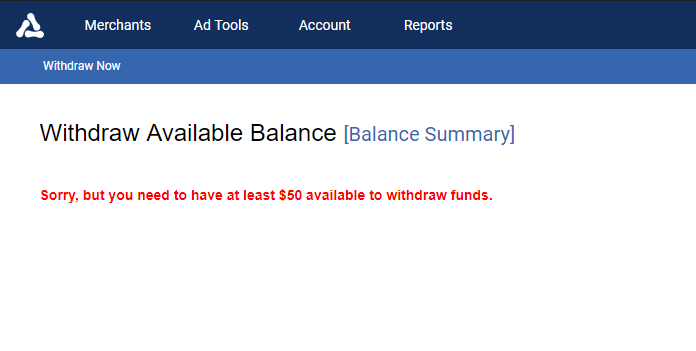 What fees are associated?
To see what fees you will have to pay to receive your money you can hover over the "view fee" button on the Withdraw Now offer page.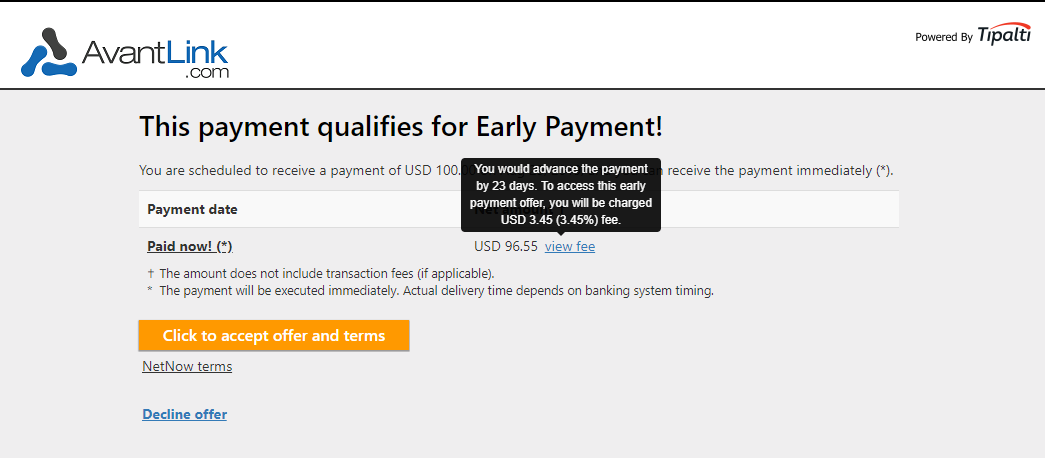 All associated fees are listed below as well: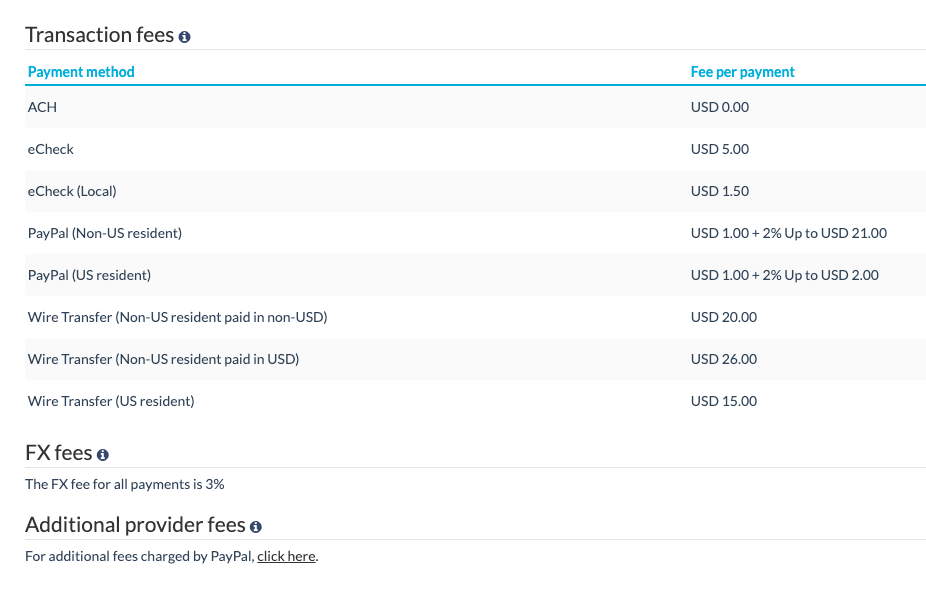 I declined the payout, why is my transaction split in two now?
Due to how Tipalti processes payouts the payment is generated as a separate transaction. This moves the funds to a "pending" status. If the offer is declined the payment remains in the payout history and the payout date is moved to the 25th of the month.
I never received my payout email?
If you've checked your spam folder and don't see the offer there you may have unsubscribed from Tipalti emails at some point in the past. You can resubscribe via the Tipalti platform.
More information coming soon. If you have questions or concerns please contact support@avantlink.com.