AvantLink interface users have the ability to add new user profiles and assign different levels of access to additional interface users in their program.
You can view a complete list of your program's users. Select

> Account Settings > Manage Users. From here, a full list of all user accounts linked to your program will be displayed. You will see each user's status as well as additional profile information.

Add a user by selecting 'Add User' at the top left of the screen. This will prompt you to enter in the new user's email address, then first and last name, as well as the permission levels you wish to grant them.
USER PERMISSIONS FOR MERCHANT ACCOUNTS/MERCHANT GROUPS
For merchants, two permission levels can be assigned for each user:
Merchant Access:

Permission to access reporting, manage affiliate relationships, create/edit ad campaigns and other basic functionality within the AvantLink interface.

Create/Edit Users:

Permission to create new user accounts and edit permissions for existing users. To enable this feature, the merchant access permission level must also be selected.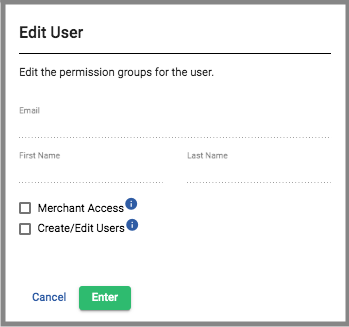 Merchant Groups
New users can be added to manage the entire suite of programs contained within the group account utilizing the same permissions listed above. For agencies, OPMs and merchants with multiple programs, giving access to new users over all programs under their umbrella is far more advantageous than individual assignments. However, if new users only need access to select programs within a merchant group account, use the merchant-level user access/permission process listed in the section above.

ITEMS TO REMEMBER
Each user should use their own email, password and

2FA login

.

It is very easy for any user to

reset their password

.

There are no limits to the amount of account users.

There are also no additional fees for each user added.

Some users will show a creation date of June 13, 2018 even when their user accounts were created earlier. This date reflects when AvantLink's Manage Users tool was launched.
ADDITIONAL QUESTIONS
If you have any questions about how to create or manage your active users to the AvantLink interface, please contact support@avantlink.com.