To ensure that your affiliate partners promote your brand with the most up-to-date promotions, it is important to continually add and update your ad campaigns. The following article will review:

CREATING AD CAMPAIGNS
AvantLink makes it easy to add text and banner ads to your program. From your AvantLink dashboard, navigate to Ad Tools > Merchant Ads > Manage. From this point, you have the ability to create and organize your ad campaigns: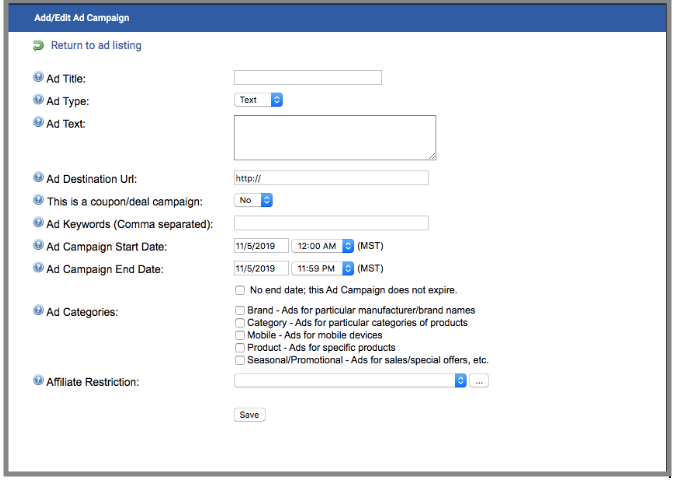 Ad Title: Enter the title of your ad and ensure that it closely matches your Ad Text. This can be a shortened version of the Ad Text giving affiliates high-level information about the ad. It will also help you identify the ad when generating performance reports.

Ad Type: AvantLink gives you the opportunity to upload ads in text, image (banners) or HTML. While the most utilized type is text, below is a description of image and HTML ad types:
Image/Banner ads

are an important visual representation of your brand and its promotions. Although not all affiliates utilize banner ads, ensuring that text ads are accompanied by image/banner ads in multiple sizes provides more opportunity for affiliates to promote your brand. Below are the most popular banner ad sizes.

300×250 pxls (Medium Rectangle)

180×150 pxls (Rectangle)

728×90 pxls (Leaderboard)

468×60 pxls (Full Banner)

160×600 pxls (Wide Skyscraper)
HTML ads

allow your promotions to automatically update on an affiliate site if the affiliate uploads the ad using Javascript. This will ensure that when you update an HTML ad, the ad will automatically update on the affiliate site as well.
Ad Text:

Use compelling, informative, and concise language.

Ensure ads are simple and contain no more than two-three sentences.

Add an urgency to your message. Example:

Limited Time: PROMOTION LANGUAGE

PROMOTION LANGUAGE. Sale Ends on 4/27!

Add promotional holiday descriptions when applicable. Example:

Celebrate Father's Day at YOURCOMPANY.com! Take 20% Off Your Purchase. Sale ends June 18!

Structure text ads using different leads. Examples:

Save up to 50% on PRODUCT NAME at YOURCOPANY.com
PRODUCT NAME As Low as $34.99 at YOURCOMPANY.com
Holiday Special – Save 15% on Any Order/No Minimum

Consider testing different ad language to identify the type of ads that perform best for your affiliates.
Ad Destination URL: Enter the landing page you want to take the consumer to when the ad is clicked.
This is a coupon/deal campaign: Whether or not the promotion has a corresponding coupon code, always selecting 'Yes' will ensure that your promotion appears when affiliates are searching for promotions to add to their site.
Ad Keywords: Ensure that you include the brand name, type of product, and any promotional language such as "free shipping, sale, Black Friday, Cyber Monday".
Ad Campaign Start Date: Schedule ad campaigns to start on the day of creation, or in the future. Scheduling ad campaigns ahead of time is especially helpful during busy seasons or during the holidays and you can schedule these ad campaigns as early as you would like.
Ad Campaign End Date: End a campaign on a specific date. Selecting 'No end date' will ensure that your evergreen ads are always live and will run until you choose to set an end date.
Ad Categories: Identify specific characteristics of your promotion that will help affiliates identify your ad when trying to choose the most appropriate promotions for their site.
Affiliate Restrictions: Restrict an ad to one affiliate or a tag group of affiliates. This will ensure that only those affiliates will be able to access the ad campaign.

AD CAMPAIGN EXAMPLES
Whether you're creating a text, banner, or HTML ads, it can often be easy to overlook optimal topics and categories for successful campaigns. Below are a number of examples to help you identify successful ad campaigns for your brand:
Create ad campaigns based on general categories available on site. Example: Find all your Hike & Camp needs at Brand.com.

Create ad campaigns for any discounted/clearance sections on site. Example: Shop our Clearance Section for all the best prices on gear you love at Brand.com

Create ads promoting special discounts your company offers. Most often this can be in the form of shipping discounts, warranty offers, free returns, pay overtime options, etc. Example: Save 10% on your first order at Brand.com or Free Shipping on all orders $50 or more at Brand.com.

TELL YOUR AFFILIATES!
Once your ad campaigns are live or edited, don't forget to email your affiliates to keep them up to date!

ADDITIONAL QUESTIONS?
Creating, updating, and communicating your ad campaigns is one of the most effective ways to keep your partners engaged. If you have any questions about this article or the strategies discussed, please email am@avantlink.com.