Affiliate Order Inquiries occur when an affiliate has an internal record of a sale through a merchant program, but the sale was not properly credited. This article will review:
WHAT ARE THE COMMON CAUSES OF AN AFFILIATE NOT RECEIVING PROPER CREDIT FOR A SALE?
The sale failed to track. This can happen for a number of reasons, including:

Ad blockers or other privacy tools on a consumer's computer.

Ad extensions on a consumers computer.

A faulty internet connection which causes the the merchant's page (and in turn tracking parameters) to unsuccessfully load.

When a merchant advertises via Google and a consumer navigates to a merchant site using Google CPC (cost-per-click) links. The CPC links will override any AvantLink affiliate links.
The sale was attributed to another affiliate

.

This can happen in a number of instances, including:

When a consumer visits another affiliate website (after the original click through).

If the consumer uses an Exclusive Coupon Code that is exclusive to another affiliate.
HOW CAN AFFILIATES IDENTIFY AN AFFILIATE ORDER INQUIRY IF AVANTLINK AND/OR THE MERCHANT DID NOT TRACK THE SALE?
This most often occurs when a consumer shops through a cashback/loyalty affiliate. Since the sale didn't track, the cashback was never awarded and an inquiry is made to the cashback/loyalty affiliate by the consumer. Some affiliates may also use a number of third party tools which can track conversions.
HOW DOES AN AFFILIATE ADD AN AFFILIATE ORDER INQUIRY TO THE AVANTLINK INTERFACE?
When the affiliate is notified of a missed sale, an inquiry is submitted through affiliate interface. (Menu

icon>Order Inquiries>Order Inquiry.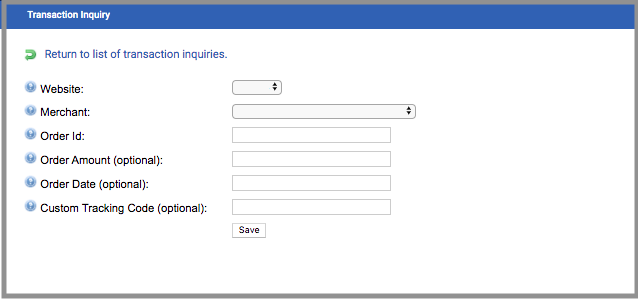 HOW CAN A MERCHANT REVIEW AFFILIATE ORDER INQUIRIES?
Merchant program managers get email notifications when an affiliate order inquiry has been submitted. Merchants are encouraged to review inquiries on a regular basis. If inquiries are common among certain affiliates, AvantLink encourages merchants to review tracking to confirm links are configured correctly.
Merchants can review and approve or deny affiliate order inquiries in the interface (navigate to Menu

>Transaction Manager>Order Inquiry).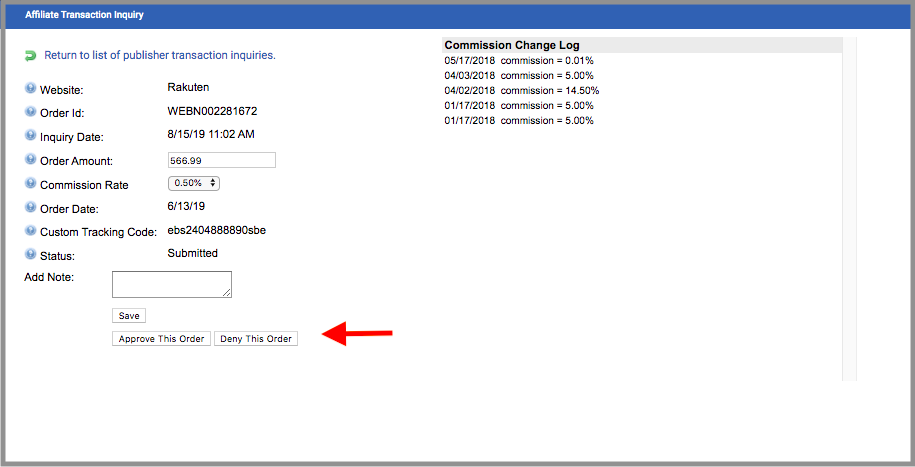 HOW OFTEN SHOULD MERCHANTS REVIEW AFFILIATE ORDER INQUIRIES?
The timing is up to each merchant. Most merchant accounts are configured to manually review order inquiries. Merchants are encouraged to review inquiries on a monthly basis.
CAN A MERCHANT APPROVE AN AFFILIATE ORDER INQUIRY AFTER IT WAS ORIGINALLY DENIED?
No. Once an affiliate order inquiry is denied, there is no way to update the status. Merchants will need to add the order in the interface (navigate to Menu

> Account Settings > Order Entry).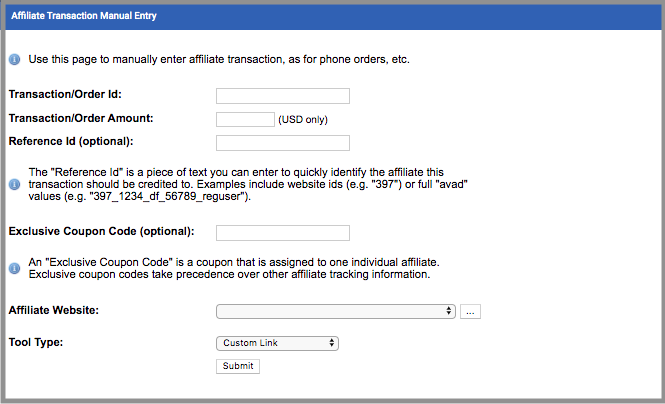 WHAT SHOULD A MERCHANT DO IF THE SALE IS ALREADY AWARDED TO ANOTHER AFFILIATE?
If a sale was attributed to one affiliate but a merchant would like to give credit to an additional affiliate, this can easily be done in the interface.
Merchants can utilize the Transaction Entry Tool referenced above. The merchant will need to use a different Transaction ID (i.e. use the original ID and add a -1).
Merchants can also manually award the affiliate with a commission using the Bonus Tool (navigate to Menu >Commission Tools>Bonus).


ADDITIONAL QUESTIONS?
If you have any other questions about your affiliate order inquiries, please contact support@avantlink.com.