Merchant advertisers can apply an Exclusive Coupon Code (ECC) rule to any coupon they add to the AvantLink interface. When an ECC is used during a sale, a specific affiliate of your designation will receive commission for any sale that uses the coupon code.
This can be an opportunity to develop valuable strategic partnership opportunities among affiliates. Check out Qualified Coupon Code rules and Restricted Coupon Code rules for additional options.
TRACKING REQUIREMENTS
Merchants must pass AvantLink coupon code values in their tracking.
There are two options to verify that your tracking is properly configured to pass coupon code values.
Check Reporting.

Navigate to the Classic Reports page and run the Sales Commission Details report. You are properly set up if coupon codes are displayed in the report.

Note: you may have to select "Show more columns" to see the coupon code data.

Perform Tracking Test.

If you cannot confirm coupon codes are tracking via your reporting you should

Perform a tracking test

with a sale that involves a coupon code. If the results return the coupon code in the Sales Commission Details report noted above, you are properly set up.
HOW TO SET UP AN EXCLUSIVE COUPON CODE RULE
Using the navigation menu in the upper left of the screen, click Commission Tools > Coupon Code.
Next, select Add Rule and enter the following information:
Ensure the rule type is 'Exclusive'

Enter the coupon code

Select the affiliate

Select 'Add Rule'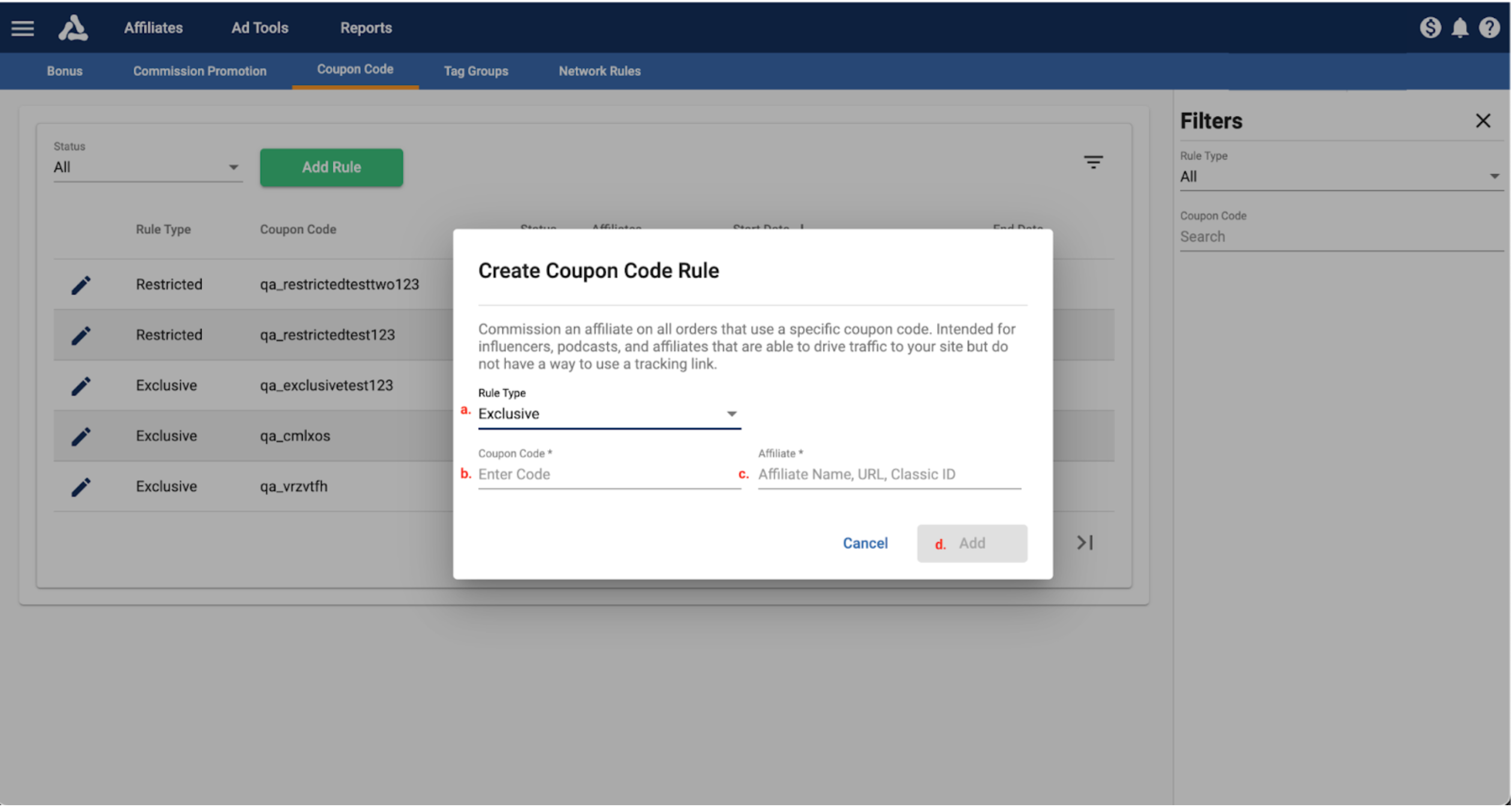 You have now created the Exclusive Coupon Code rule.
BEST PRACTICE & IMPORTANT THINGS TO KNOW
An ECC can only be applied to one affiliate because AvantLink will award the affiliate commission anytime the code is used, whether or not a click/cookie is present in the clickstream. This is a great solution to track offline marketing efforts and work with influencers that may have a difficult time generating a click.

The affiliate that is awarded an ECC is not automatically notified. You must reach out directly to let them know which coupon code is exclusive to them or

create an ad with the coupon code and designate it to that affiliate.

The terms and conditions for your merchant program will auto-update when at least one ECC is active. It will let affiliates in your program know to only use coupon codes available to them to ensure they receive commission. The terms and conditions page does not list actual coupon codes; it is just a general statement.

If you wish to stage an ECC to start in the future, the best practice is to set up the ECC in AvantLink early and then have the coupon promotion go live at a later date in your eCommerce platform.
HOW TO REVIEW ECC PERFORMANCE
There are a few ways to measure the performance of an ECC:
Sales Commission Detail report

Navigate to the Classic reports page and run the Sales Commission Details report.

Select 'Show more columns' will expose the Coupon Code column.

Filter to the specific coupon code or by the transaction type "Sale (Exclusive Coupon)".
NOTE: You will know that the ECC rule was initiated for a particular order if you see 'Exclusive Coupon Code' listed in the Tool Name column. This confirms that the code was used without a click present in the clickstream. If any other tool name is listed in association with the specific coupon code, an affiliate click occurred in association with the order.

Performance Summary by Tool Type report

Navigate to the Classic reports page and run the Performance Summary By Tool Type report.

Review the number of sales and sale amounts associated with the Exclusive Coupon Code.
NOTE: This report outlines the number of sales that were attributed to the ECC rule. It denotes the sales generated with the use of the Exclusive Coupon Code when there was NO CLICK present in the path to purchase.
It does not solely indicate the number of times the ECC was used as it could have been used in association with the click. See previous bullet to review.

Performance report

.

Navigate to the Performance Reports page.

Select 'Group Rows By' > Advanced. This will open a new window.

Select 'Transactions'

Add the 'Coupon Code' dimension to a report.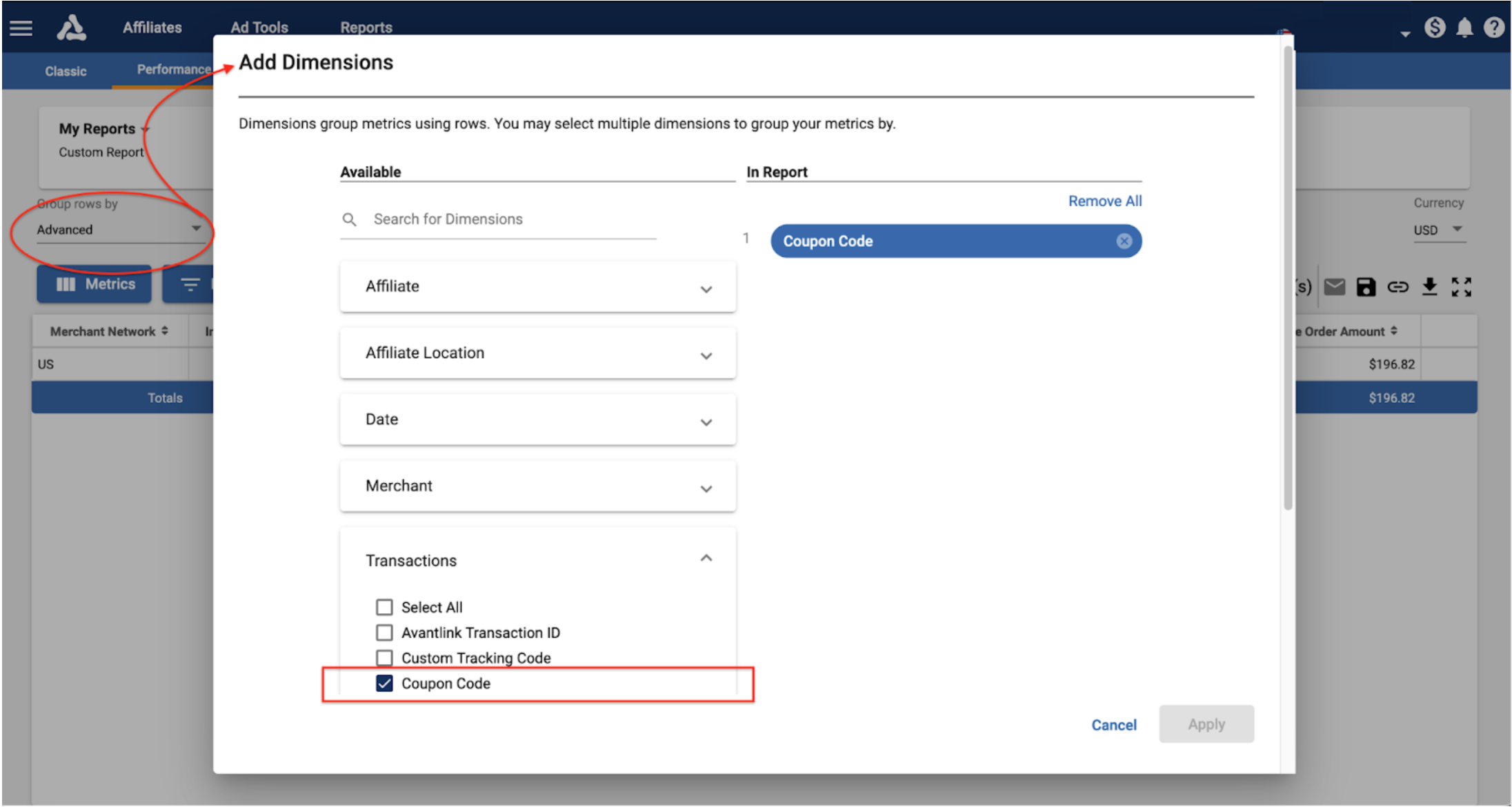 ECC STRATEGIES
Now that the Exclusive Coupon Code is part of your program, there are many opportunities to utilize these capabilities strategically:
Negotiating Media Placements. Offering an exclusive coupon can go a long way in securing media placements with affiliates. Affiliates may discount or waive placement fees altogether if they can promote an exclusive coupon to their audience.





Clickless Tracking. Utilizing ECCs can help you work with affiliates where clickless tracking is necessary. For example:

Audio: One great example is podcasts. Hosts can announce your promotion along with the coupon code to their audience.

Print: Your coupon code can be printed on flyers, newsletters or the affiliate's print advertisements.

Social Influencers: Your coupon code can be included in social media posts or used in an image.





Adjusted Attribution. For merchant advertisers who have AvantMetrics integrated, AvantLink can ensure that an affiliate that is awarded the commission due to the ECC will be awarded as a 'Checkout Influencer' based on the program's attribution rules. If your program does not have AvantMetrics integrated but would like to learn more, email sales@avantlink.com.
ADDITIONAL QUESTIONS
If you have questions on how to set up or effectively use the Exclusive Coupon Code feature, please reach out to support@avantlink.com.