Merchants with the ability to provide and track Exclusive Coupon Codes (ECC) opens up a number of valuable strategic partnership opportunities among their affiliates. By configuring an ECC, the affiliate will always receive credit for a sale that uses the exclusive coupon code.

ECC TRACKING PARAMETERS
In order for the ECC credit to be properly credited to a specific affiliate, there are three pieces that must be in place:
The merchant must have an eCommerce platform that supports coupon codes.





The merchant must pass the "ecc=[VALUE]" in the Order Confirmation tracking pixel (in the same line as 'order_id' and 'amount'). This is not a default value, so this usually needs to be added to the script. See the

Tracking Integration

support article to see a template of the confirmation script.





The specific Ad Campaign featuring the ECC must be configured for exclusive affiliate use. See the next section for specific instructions.

This will award 100% commission to the exclusive affiliate by default. For example, if a customer clicks on affiliate1.com, clicks through to merchant.com, and uses a coupon code associated with affiliate2.com, then affiliate2.com will get the commission - even if that customer never visited their site.

ASSIGNING AN ECC TO AN AD CAMPAIGN AND EXCLUSIVE AFFILIATE
Navigate to Ad Tools > Merchant Ads > Create a new Ad Campaign. From this point, you have the ability to create your ad campaign. To assign the ECC, pay special attention to the following: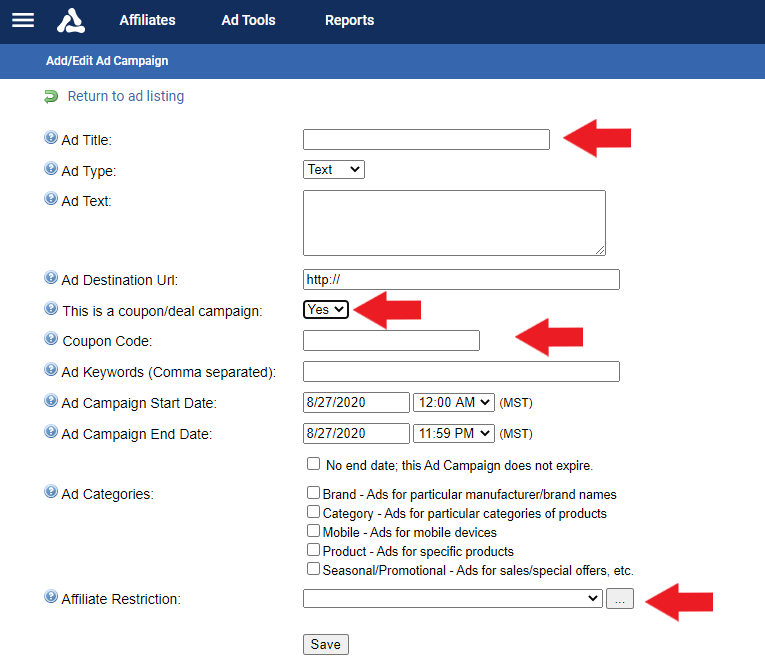 Ad Title: Enter the title of your ad and ensure that it closely matches your Ad Text. Consider identifying that this ad is an exclusive coupon campaign for a specific affiliate. For example: AFFILIATENAME ECC: Save 20% using code 20OFF
This is a coupon/deal campaign: Selecting 'Yes' will allow you to enter in your coupon code to the text ad.
Affiliate Restriction: Restrict the ad to the affiliate promoting the ECC.

Note: if you want a specific affiliate to receive credit every time an ECC is used. Only set up one affiliate for that ad.
REVIEWING ECC PERFORMANCE
AvantLink's reporting makes it very easy to monitor the performance of your coupon codes. Navigate to Reports>Classic>Report: Sales/Commissions (Detail).
Select 'Show more columns' will expose the Coupon Code performance.




ECC STRATEGIES
Now that ECC tracking is part of your program, there are many opportunities to strategically utilize these capabilities:
Negotiating Media Placements. Offering an exclusive coupon can go a long way in securing media placements with affiliates. Affiliates may discount or waive placement fees altogether if they can promote an exclusive coupon to their audience.





Clickless Tracking. Utilizing ECCs can help you work with affiliates where clickless tracking is necessary. For example:




Audio: One great example is podcasts. Hosts can announce your promotion along with the ECC to their audience.

Print: Examples can be printing your promotion along with the ECC on flyers, newsletters or any print advertisements by the affiliate.



Adjusted Attribution. For merchants who have Avantmetrics integrated, AvantLink can ensure that an affiliate who is awarded the commission due to the ECC will be awarded as a 'Checkout Influencer' based on the program's attribution rules. If your program does not have Avantmetrics integrated, but would like to learn more, email sales@avantlink.com.
ITEMS TO CONSIDER
You cannot assign a Tag Group of affiliates to a ECC promotion. There is no way to determine which affiliate is credited within that tag group; therefore, the ECC must only be assigned to a specific, individual affiliate.

ADDITIONAL QUESTIONS
If you have any questions about this article or the tactics discussed, please email support@avantlink.com.