The following article covers commonly asked questions about the affiliate/publisher payout process in the AvantLink network. Topics covered here include:


GENERAL PAYOUT QUESTIONS

How does AvantLink payout their affiliates/publishers?
AvantLink is now partnered with Tipalti, a third-party payment partner. On the 25th of each month, AvantLink sends all affiliate/publisher payment information to Tipalti. Funds will be available for withdraw 1-4 business days after the information is sent to Tipalti.
What is included in the affiliate/publisher payout?
Affiliate/Publisher payouts will include any commissions, bonuses, paid placement earnings and cost-per-click earnings. Payouts will not be available until the merchant/advertiser has paid their AvantLink invoice.
How do I find out which specific transactions are included in a payment?
Available balances, or earnings that merchants/advertisers have paid for, can be found on the AvantLink interface by selecting Account>Balance Summary. 'Pending' balances, or earnings that merchants/advertisers have not yet paid, can also be found in the Balance Summary page.
How do I find historical payout information?

Previous payouts can be found on the AvantLink interface by selecting Account, then Payout History.
How do I know which of my merchants/advertisers have paid their invoices?
Merchants/Advertisers who have paid their AvantLink invoice will show up in the 'Available' balance section on the Balance Summary page. You can also access your balance summary by clicking on the dollar sign located in the header of your account interface.

Is there any way to withdraw my balance early?
Yes. In the US network, Tipalti allows for withdrawals to be made before the 25th. For more information, see the 'Withdraw Now' section below or review the Tipalti Withdraw Now Walkthrough for more information.
Why are paper checks no longer available?
Due to potential fraud issues, we have decided to discontinue the issuance of paper checks for recurring payouts.
What is my pending balance and when will it become available?
Your pending balance is the amount of money that you have earned from your merchant/advertiser programs that has not yet been paid by the merchants/advertisers. The balance will become available once we have received payment from the merchants/advertisers.
To view the status and due dates of pending invoices from your merchants/advertisers, go to Account > Balance Summary. Select 'Details' next to the merchant/advertiser name under the 'Pending' section.
What if I close my account?
No worries! We will send any balance in your account to you, via a one-time paper check payment, to the address on file. You will be paid within 90 days from your account closure once AvantLink ensures all amounts are finalized.
Note: We may be able to provide a final one-time payout via PayPal. Please reach out to support@avantlink.com to confirm.

BANK ACCOUNT/TAX FORM QUESTIONS
Can I use International Bank Accounts?
Through Tipalti any affiliate/publisher in the US network can be paid via wire transfer to most international bank accounts (fees do apply to wire transfers). Please note, AU network can only use Australian based bank accounts, and CA network can only use Canadian based bank accounts.
Special Note for Australian Bank Users:
Unfortunately, our system requires only numeric SWIFT codes, and some AU banks may have letters in their swift codes. This will fail on our side. We recommend using Paypal instead.
Special Note for Canadian Bank account users:
Please ensure that you're using your Transit Number and Institution number in the Routing Field, even if your bank provides a separate Routing Number.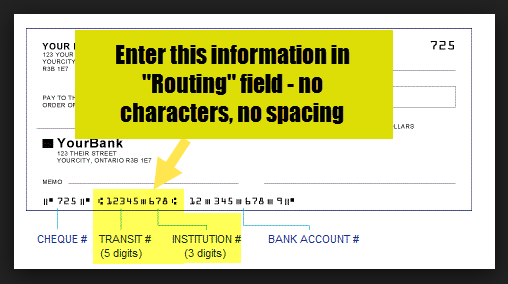 Do I have to provide tax forms?
With the new Tipalti system, users are allowed to submit their tax documents via the platform automatically. For more details regarding updating and filing tax information please refer to Tipalti Payout Walkthrough. Note: As always, AvantLink encourage affiliates/publishers to check with local jurisdictions to ensure all tax laws are followed.

AUTOMATIC PAYMENTS QUESTIONS
How do I set up Automatic Payments?
In the AvantLink interface, select Account > Manage Payment at Tax Information. For your security, we now require user to utilize the two-factor authorization process in order to set up or edit your Payout Methods. For more information, see the 'Two-Factor Authorization (2FA)' section below.
What is the Minimum Threshold for Automatic Payments?
The default minimum threshold is $50. You can update your threshold by navigating to Account>Business Settings. The threshold ranges from $25 - $1000+.
When is my payment processed? How long does it take to process?
Commissions are based on calendar month periods, (e.g. July 1 - 31). On the 1st of the following month (August 1st), an invoice is generated to the merchant/advertiser, and AvantLink usually expects payments within 1-10 days from the invoice submission (Aug 1-15th). Note: payments are not issues to affiliates/publishers until the merchant/advertiser pays their invoice.
PayPal users (only available for US affiliates/publishers) should expect to have funds available on the 25th of the month.
For ACH/Direct Deposit payment methods, we begin processing on the 25th of the month with a 1-4 day processing period.
If a merchant/advertiser misses a payment, then keep an eye on your Available versus Pending balance. Generally, you should receive those funds on the 25th of the following month.

WITHDRAW NOW QUESTIONS
The Withdraw Now option allows affiliates/publishers to request their available funds on-demand. This is useful in case your funds weren't available on the previous billing cycle of the 25th, but you don't want to wait until the next billing cycle. For more information, please see the Tipalti Withdraw Now Walkthrough for more information.
Is the 'Withdraw Now' feature available in all networks?
No. The Withdraw Now feature is only available for US and CA affiliates/publishers. The feature is not available for AUS affiliates/publishers.
Is the Withdraw Now feature available for all payment methods?
No. The Withdraw Now feature is ONLY good for Bank Account payment methods.
Your Payment Method must use the network Native Currency (USD in the US Network, CAD in the CA network), and your bank must be native to that network (US-based banks only in US network, Canada based banks only in the CA network).
Why can't I choose to 'Withdraw Now' as a PayPal user?
Due to PayPal policy, we cannot fund our payments to you on demand. PayPal takes 10 business days to fund; please see the "When is my payment processed?" question above for more details.
Are there fees when choosing to 'Withdraw Now'?

Yes, when requesting a "NewNow withdrawal" you will receive an email with any listed fees. The further from the 25th the request is made the higher the fees.
When will funds be available if I choose to 'Withdraw Now'?
Despite the 'Withdraw Now' name, it may take 24-48 hours for the ACH (electronic bank transfer) to process.

TWO-FACTOR AUTHORIZATION (2FA) QUESTIONS
For your security, we now require 2FA in order to edit your Payout Methods, or request a withdrawal.
How do I set up 2FA?
The first time you use Withdraw Now, or are setting up or editing a Payout Method, you must first set up 2FA.
The first screen asks you to enter a code: this is simply to verify your phone number. You can choose from two options to receive that code, text message or phone call. Enter the verification code to confirm.
Once your phone number is confirmed, you will be asked to test the system by clicking Verify Token. Then you can enter your authentication code.
How do I get the code to access my payment info? What's SMS? Can I use a Landline?
We suggest that you use the Authy app to generate codes on demand which you can use to access your account. Authy is available for smartphones, as well as for desktop. Alternatively, we also support both text (SMS) for mobile phones, as well as "Call Now" to support landlines (such as a business office number).

ADDITIONAL QUESTIONS?
If you have any other affiliate/publisher payout questions, please contact support@avantlink.com.